Growth Hub Jan Newsletter
Released On 12th Jan 2023
Here at the Heart of the South West Growth Hub we look to keep you updated on the latest Government and local business support. Get in touch with the Growth Hub team to find what you need to support your business. Happy New Year from all of us at the Growth Hub.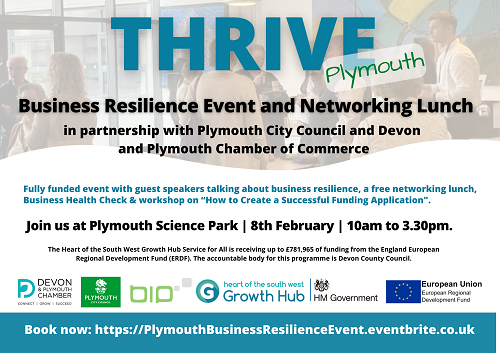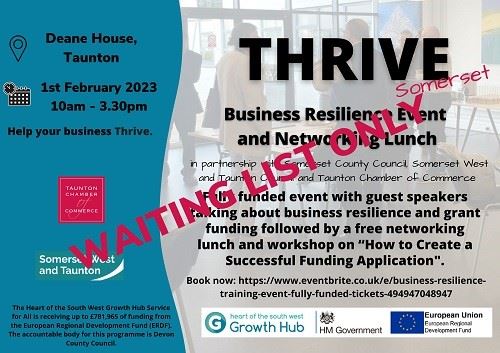 Business Resilience Events in Plymouth & Taunton
The Heart of the South West Growth Hub and Thrive have teamed up with local Councils and Chambers of Commerce to put on two Business Resilience Events in February.
Aimed at supporting local businesses, these free events will take place on 1st February at Deane House, Taunton and on 8th February at Plymouth Science Park, Davy Rd, Plymouth. Businesses throughout Devon and Somerset are invited to attend.
The events, which includes a free networking lunch, aim to bring together businesses from across the region and provide practical support and guidance in response to the recent rises in the cost of living. Business Owners and Managers looking to boost their finances can discover more about the grant funding available to them with a workshop on "How to Create a Successful Funding Application" to raise their chances of making a successful application. They will also hear from a panel of expert guest speakers.
Booking is essential as tickets are limited - tickets are going fast.
The Taunton event is fully booked - waiting list only: Business Resilience Training event- fully funded Tickets, Wed 1 Feb 2023 at 10:00 | Eventbrite
Book for Plymouth here: https://PlymouthBusinessResilienceEvent.eventbrite.co.uk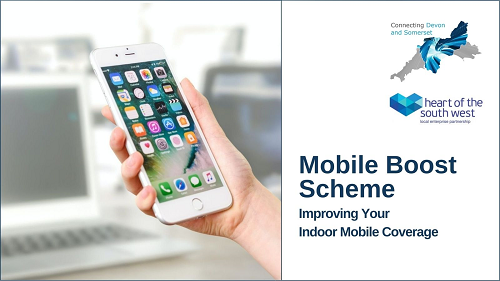 Mobile Boost Scheme
Are you a business or household struggling with poor indoor mobile coverage? Connecting Devon and Somerset (CDS) may be able to help.
The Mobile Boost Scheme offers businesses and homes in Somerset, Devon, Torbay and Plymouth vouchers towards technology to improve their indoor mobile coverage. For more information about the Mobile Boost Scheme and to apply visit Mobile Boost Voucher Scheme - Connecting Devon and Somerset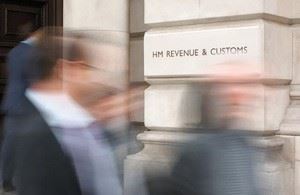 Phased mandation of Making Tax Digital
Self-employed individuals and landlords will now have more time to prepare for Making Tax Digital (MTD) for Income Tax Self Assessment (ITSA), following a government announcement last month.
Understanding that self-employed individuals and landlords are currently facing a challenging economic environment, and the transition to MTD for ITSA represents a significant change to taxpayers and HMRC for how self-employment and property income is reported, the government is giving a longer period to prepare for MTD. The mandatory use of software is therefore being phased in from April 2026, rather than April 2024.
From April 2026, self-employed individuals and landlords with an income of more than £50,000 will be required to keep digital records and provide quarterly updates on their income and expenditure to HMRC through MTD-compatible software. Those with an income of between £30,000 and £50,000 will need to do this from April 2027.
Find out more on the government website: Government announces phased mandation of Making Tax Digital for ITSA - GOV.UK (www.gov.uk)
South West Cyber Security Cluster - Speaker Request
The South West Cyber Security Cluster is a volunteer-led and government-supported initiative dedicated to improving cyber security skills development, SME business protection and innovation across the South West. They are looking for speakers from South West businesses to speak at Secure South West, in April 2023. This years theme is "Benefiting from Smart Systems - Understanding Cyber Risk" and the SW businesses must be either :
• Building smart systems (operational technology) facing cyber security implementation challenges
• Deploying smart systems who want to talk about the cyber security challenges they face in doing so
Interested? Contact cybernews@southwestcsc.org or find out more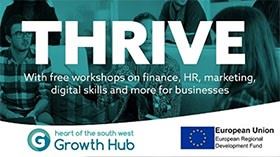 Is your business ready to Thrive in 2023?
If you're a sole trader, micro business or limited company in Devon, Plymouth, Torbay, and Somerset (excluding BANES), Thrive is here to support you to make your business the best it can be. Whether your current business challenge is looking for ways to grow your business, increase your turnover, getting to grips with social media, managing your businesses, or writing a business plan, Thrive is here to help.
Through 1-2-1 business diagnostic and training services, Thrive offers up to 12 hours of fully-funded expert advice and tailored guidance to help support local businesses with growth, resilience, trade, marketing, recruitment, and more. Learn more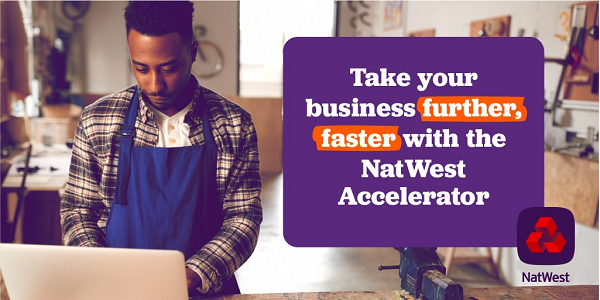 NatWest Accelerator
Applications for the NatWest Accelerator are now open for the next cohort of highly motivated entrepreneurs, seeking support to take their business to the next level, starting w/c 13th March.
What support does the NatWest Entrepreneur Accelerator* offer?
• 1:1 coaching by an Acceleration Manager
• A programme of events including thought leadership workshops
• Access to expertise through our mentors and wider network
• A community of like-minded entrepreneurs to support one another
• Access to a free working space (if applicable)
*This is a free programme, open to all for the first 6 months. Up to 18 months of support available for NatWest customers. Find out more via one of our discovery events - to attend one of the Online Discovery Events GO HERE.
We recommend that every candidate signs up to a session prior to applying or before their interview as it is a competitive process. Applications are via our website. The closing date is 17th February 2023.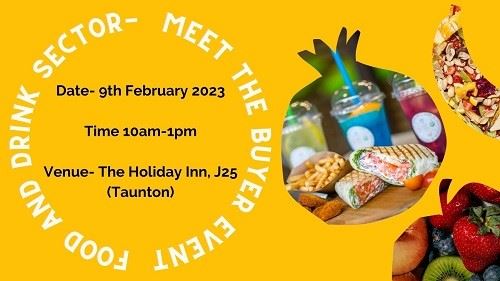 Meet the Buyer event
Are you in the food and drink sector? Meet the Buyer is an event bringing together food and drink suppliers and local buyers. There will also be a number of free training sessions and webinars taking place on the day. Find out more and book your place now: Meet the Experts event | Eventbrite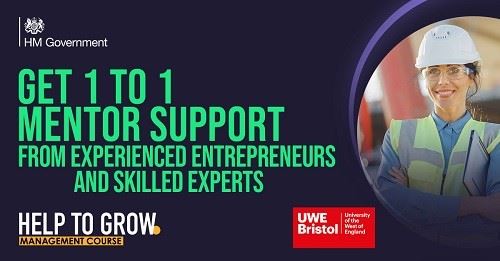 Advance your leadership skills with Help to Grow: Management
Help to Grow: Management is a 90% funded 12-week practical management training course designed to support senior managers of SMEs to boost performance, resilience, and long-term growth. Attend online and face-to-face training sessions, engage in regular peer group calls, have access to 10 hours of one-to-one mentor support and join a network of SME leaders through the Alumni programme. Registrations for the upcoming Exeter based cohort, delivered by UWE Bristol, are closing soon. SMEs may be from any sector but must employ 5-249 people and participants must be at senior manager level. The programme is 90% subsidised by the Government, meaning participants pay a £750 fee.
UWE Bristol's Exeter cohort is scheduled to start on 30th January 2023. If you'd like to start the New Year with creating a personalised Growth Action Plan for your business, visit UWE Bristol's website or contact UWE Bristol's friendly team on helptogrow@uwe.ac.uk.
Looking for ways to save money in 2023? Visit our cost of living resources page to view information, top tips and links to schemes and further support, including renewable options.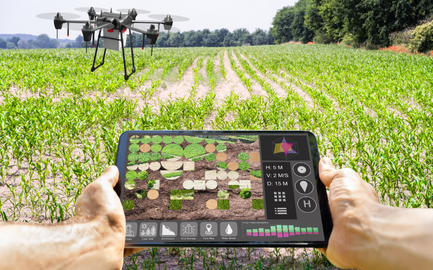 Future Farming Resilience Project
The Future Farming Resilience Project aims to support the farming community transition from the Direct Basic Payment Scheme (BPS) towards the governments new Environmental Land Management Scheme (ELMS) by providing free, expert advice that is tailored to unique farming businesses. Find out more here: Future Farming Resilience - Economy and Enterprise (devon.gov.uk)
Farming Futures Research and Development competition
Defra have published guidance for the third round of the Farming Futures Research and Development competition focusing on agriculture and horticulture robotics. In partnership with UK Research and Innovation (UKRI), Defra will match-fund projects which will boost productivity and sustainable farming practices through the development of automation and robotic technologies on farm. Farmers, growers, businesses, and researchers are being invited to apply for a share of £12.5 million, with grants for projects worth between £500,000 and £1.5 million available.
Applications opened on 9th January 2023. For more information, read the Future Farming Blog post.

South West Events and Workshops
The Growth Hub has a dedicated page listing all the latest business events taking place across the South West. The New Year is the perfect time to take stock of your business, plug those skills gaps and revisit that business plan. Our upcoming workshops have everything you need to be ready and focussed for 2023. Below are a few funded (or free) events happening this month:
Business Mini Plan, 19th January, online (North Devon Businesses only) Book here
Pricing and Positioning your products and services, 25th January, online (Devon & Somerset exl. N Devon) Book here
Using Canva for your Marketing, 31st Jan (Devon & Somerset exl. N Devon) Book here
For more events, see our events and workshop pages
Multiply - Everyone Counts
New Programme for Employers to benefit their employees. Fully funded support to help individuals to improve their confidence and competence with everyday practical maths. After an initial consultation with employers, BIP will explore the potential requirement for different maths skills within the roles carried out by employees.
From these workshops the employees will build their knowledge and ability to use their skills within their positions confidently in the workplace. Everyone Counts Workshops | Business Information Point (businessinfopoint.co.uk)