Heart of the South West Growth Hub - Newsletter
Released On 22nd Nov 2022
Here at the Heart of the South West Growth Hub we look to keep you updated on the latest Government and local business support. Get in touch with the Growth Hub team to find what you need to support your business.

Innovation loans future economy competition
Innovate UK is offering loans between £100,000 and £2million to micro, small and medium sized enterprises (SMEs). Loans are for highly innovative late-stage research and development (R&D) projects with the best potential for the future. There should be a clear route to commercialisation and economic impact.
Your project must lead to innovative new products, processes or services that are significantly ahead of others currently available, or propose an innovative use of existing products, processes or services. It can also involve a new or innovative business model.
Read more on Innovate UK loans and other funding opportunities here.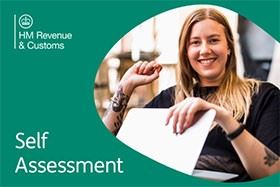 Online Payment Plan help with Self-Assessment bills
Since 6 April 2022, almost 21,600 Self-Assessment customers, who were unable to pay their tax bill in full, have set up a payment plan to spread the cost into manageable monthly instalments – an increase of around 3,900 customers on the previous year – HM Revenue and Customs (HMRC) has revealed.
The deadline for customers to submit their tax returns for the 2021 to 2022 tax year and pay any tax owed is 31 January 2023 and HMRC is encouraging anyone yet to complete their return to do it early. Those who have already completed their Self-Assessment know what they owe and can budget to make payments on time.
Find out more about the support available here.

Devon Get Started
If you are over 25, live in Devon and want to start your own business then Devon Get Started can help you get your idea off the ground!
School for social entrepreneurs along with Devon County Council are offering practical learning and support to help turn your idea into a real-life project or social enterprise (a business that trades for a social purpose). The support is free, flexible, and online which makes it easy to access. You don't need any qualifications, experience or to have already started. Just bring an idea and a desire to learn and we'll help you with the rest.
Somerset Councils launch countywide Business Survey 2022
Somerset's five Local Authorities are jointly undertaking a survey to better understand and support local businesses, now and in the future. The survey will give valuable insight into current business challenges, such as inflationary pressures, supply chain issues, higher borrowing costs, ongoing recruitment and skills concerns, and the journey to net zero carbon emissions.
The Somerset Business Survey 2022 is live and can be completed here.
Help to Grow: Management Programme – participants sought
The University of the West of England (UWE Bristol) are heading to Exeter this January to deliver the 90% Government funded Leadership and Management training course for SME leaders. Help to Grow: Management is a 12-week practical training course designed to support senior managers of SMEs to boost performance, resilience, and long-term growth. Attend weekly training sessions, engage in regular peer group calls, have access to 10 hours of one-to-one mentor support and join a network of SME leaders though the Alumni programme.
The programme is 90% subsidised by the government, costing £750. Designed to be undertaken alongside full-time work, the twelve modules require 50 hours of commitment to timetabled activities.
To find out more about the programme, visit UWE Bristol's website or contact the team on helptogrow@uwe.ac.uk.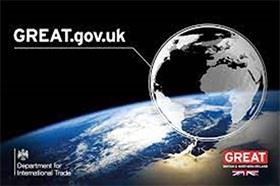 Latest from the Department for International Trade
At the Growth Hub, we work closely with the south west international trade team to stay updated on the latest news and export opportunities for our businesses. Here is our pick of news that caught our eye this week.
E-Commerce can help boost UK exports, says new report
The report entitled 'Just a click away: How e-commerce can boost UK exports and growth' identifies the "significant untapped potential" of UK businesses and highlights several barriers and benefits to increasing online sales for exporters. Read more here.
Read this if your business suffers from imposter syndrome
Have you ever heard yourself say, "no I can't export" or, "it's too difficult to export" and "I wouldn't even know where to start…so why bother?"
International Trade Adviser - Estelle Dingley - shares how businesses can overcome the complexities of exporting by just thinking differently. Read the full blog here.
To find out how DIT can help businesses in your area grow international sales, visit www.great.gov.uk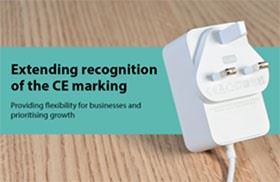 Businesses to be given UK product marking flexibility
Businesses will be given an additional 2 years to apply new product safety marking, giving thousands of businesses the freedom to focus on growth, Business Secretary Grant Shapps has announced this week.
The UK Conformity Assessed (UKCA) marking has been introduced as part of the UK's own robust regulatory framework. It shows that products comply with our product safety regulations which are designed to protect consumers. However, given the difficult economic conditions the government will continue to recognise the CE marking for 2 years, therefore allowing businesses until 31 December 2024 to prepare for the UKCA marking. Businesses can also use the UKCA marking, giving them flexibility to choose which marking to apply.
See the full press release here.
Growth Hub Cost of Living Resources
The Heart of the South West Growth Hub team have pulled together information, top tips and links to schemes and further support, including renewable options. New to our resource pages is information about the Business Debt Line, which offers a budget tool and free debt advice over the phone and online with a specialist adviser.
See our Growth Hub Cost of Living Resources page here.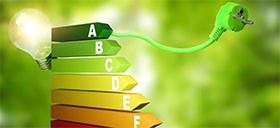 Energy Efficiency Grant
Somerset West and Taunton (SWT) and Sedgemoor District councils are launching a new grant scheme to help small and micro businesses become greener as part of their commitment to reaching net zero emissions by 2030.
Carbon-cutting grants worth up to £2,500 will be made available to businesses with up to nine employees to help fund energy reduction and net-zero transition projects. Please carefully read the eligibility criteria for the grant.
Applications open Wednesday, 16 November and will close 8 December.
Businesses in Somerset West and Taunton should apply by visiting:
somersetwestandtaunton.gov.uk/energy-efficiency-grant
Businesses in Sedgemoor should apply by visiting:
sedgemoor.gov.uk/article/6838/Energy-Efficiency-Grant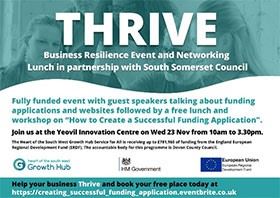 Thrive Business Resilience Event
This November, Thrive, in partnership with South Somerset Council, is hosting an in-person Business Resilience event and networking lunch at Yeovil Innovation Centre on Wednesday 23rd November.
This free event will seek to bring together businesses from across Somerset and provide practical support and guidance in response to the recent rises in the cost of living. The event will include a panel of guest speakers – addressing funding applications, websites and business resilience – and a complementary lunch.
The afternoon "How to Create a Successful Funding Application" workshop will take you step-by-step through how to raise your chances of a successful application. We'll consider the various loans and grant funding options that your business can access, what information lenders require, what your bank manager (or other investors) will want to see.
Help your business Thrive and book your free place here
South West Events and Workshops
The Growth Hub has a dedicated page listing all the latest business events taking place across the South West.
Below are a few funded (or free) events happening in the coming weeks:
Allergens and Food Labelling workshop, online on 22nd November
How to – Digital Marketing strategies made easy for small businesses, online on 23rd November
Marketing Mastery: Understanding customers & developing your product, online on 7th December
Net Zero and Sustainability for Business, Taunton on 9th December
See the Skills Launchpad for information about skills, careers and training
For more events, see our events and workshop pages.