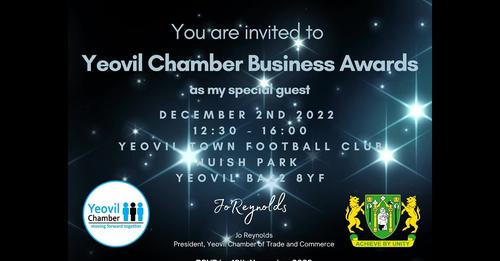 Yeovil Chamber Business Awards 2022
Released On 5th Dec 2022
Friday 2nd Dec saw the third Yeovil Chamber Business Awards take place at YTFC.
The event celebrates local business success and has become a popular event in the local calendar and was enjoyed by everyone. Guest speakers included Marcus Fysh MP and Evie Pott Jones, Mayor of Yeovil. Evie was also the compere of the event and kept the proceedings on track.
Jo Reynolds, President of Yeovil Chamber of Commerce praised all who entered or were nominated for awards, stating that this was a testament to the amazing businesses we have in the region and the strength, resilience, and innovation that business owners have continued to demonstrate despite recent challenges.
Jo also talked about how important these awards are for the business community and as part of Yeovil Chambers continuing work in the business community, it is a privilege to be able to organise and host them. She thanked the Yeovil Chamber Executive Team, who as volunteers have made all the magic happen since she took over in February. Special thanks were given to Richard Howes, Vice President and Sales Director of Kontrolit in Yeovil who helped plan and deliver the whole event.
Winners were:
• Young Business 2022 - Sponsored By Battens Solicitors - Won By Auxilium HR Solutions Ltd
• SME Business 2022 - Sponsored by Milsted Langdon - Won By Emerald First Aid Training
• Customer Service Award - Sponsored by Porter Dodson - Won By CETSAT
• A Great Place to Work - Sponsored by Jurassic Fibre - Won By Porter Dodson Solicitors
• Exceptional Employee 2022 - Sponsored by Gareth Webb & Co LLP - Won By Steve James, Da Vinci Restaurant
• Outstanding Contribution by an Individual - Sponsored By Leonardo Helicopters - Won By Rachael Brannagan
• Community Champion - Sponsored by Yeovil College - Won By Yeovil Press
• Social Care Business 2022 - Sponsored by Evie Potts, Yeovil Mayor - Won By The Elms Residential Home
• Retail Business 2022 - Sponsored by YTFC - Won By The Cake Box Bakery
• Hospitality and Leisure Business 2022 - Sponsored by SSDC - Won By Tamburino Ristorante
• Manufacturing and Engineering Business 2022 - Sponsored by Garador - Won By Pittards
• Environmental/Green Business 2022 - Sponsored By Albert Goodman - Won By Ceres Natural and Organic Foods
• Overall Business Of The Year - Sponsored by Yeovil Chamber of Commerce - Won By Total Wellbeing Matters
2023 is a very exciting year for Yeovil Chamber with its new sector hubs maturing and offering additional support and opportunities for hundreds of businesses across the area, we are already looking forward to the 2023 Yeovil Chamber Business Fair and celebrating again at the fourth Yeovil Chamber Business Awards. Businesses are invited to contact Jo directly if they would like to be involved or to look at the website www.yeovilchamber.org for more details about the ongoing work.