Patrons
For members and non-members. Assist with the delivery of internal and external projects and campaigns. Community engagement, enhance business efficiencies, create supply-chain opportunities, and further raise your profile. Within the patronage arrangement, Yeovil Chamber can deliver specialist support, via our unrivalled and unique local and regional insight and influence. As the terms are tailored to individual business requirements, the patronage fee must be agreed in advance with Yeovil Chamber. If you are an existing Chamber member upgrading to patronage, your normal membership fee is absorbed into the agreed annual patronage fee.
Benefits of Patronage
​As well as delivery of your individual requirements, patronage also brings the following benefits:
Two pre-paid places at each of our Business Leaders Breakfasts;
Two pre-paid places at other seasonal events*;
Inclusion of your logo, acknowledgement of patron status and a link to your company website on all Yeovil Chamber email footers, and at the foot of the Yeovil Chamber website homepage;
*Excludes the monthly 'Breakfast Circle' networking events **Excludes social media communications
Thank you to our patrons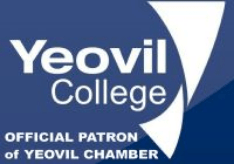 A patron of Yeovil Chamber since 2016. Regular meetings with the College governors and management team, as well as their place on the Chamber Executive, promotes training, apprenticeships, academic courses, and ultimately assists with business sector engagement, influencing and aligning the curriculum to match short and longer-term employment requirements. At every opportunity, the Chamber encourages businesses and employers to engage with Yeovil College. This relationship has been key to Yeovil College becoming a vital part of the business community.

Yeovil's largest employer, the UK's only helicopter manufacturer since 1946, and based in Yeovil since 1915. The long-standing Yeovil Chamber relationship with Leonardo covers a wide range of activities, such as internal training, community projects, apprenticeship and graduate activities, supply chain opportunities, and their engagement with the wider business community and our other stakeholders. Leonardo are represented on the Yeovil Chamber Executive team by their Community & Communication Manager.

Albert Goodman are highly skilled, financial and accountancy professionals; delivering the highest level of client care and have been a long-standing patron of Yeovil Chamber regularly sponsoring events and our Business Leaders Breakfasts. They have offices based in Taunton, Bristol, Chard, Wedmore, Weston-Super-Mare, Weymouth, and Yeovil and are heavily engaged with the business communities across Somerset and Dorset. Albert Goodman provide Yeovil Chamber financial/accounts oversight via their seat on the Yeovil Chamber Executive.

Investing over £250M into delivering and building a fibre broadband network across Somerset, Dorset and Devon, to over 300,000 homes and businesses. Jurassic is part of the Fern Trading Group, and was founded by CEO Michael Maltby, a resident of Sidmouth, who has built fibre and similar networks around the world, including in Russia and the Caribbean. In May 2021, Jurassic Fibre partnered with Yeovil Chamber to promote and deliver a digital, gigabit-speed infrastructure to support businesses and lifestyles across our region.